What Is Protein Sensitivity And How To Care For It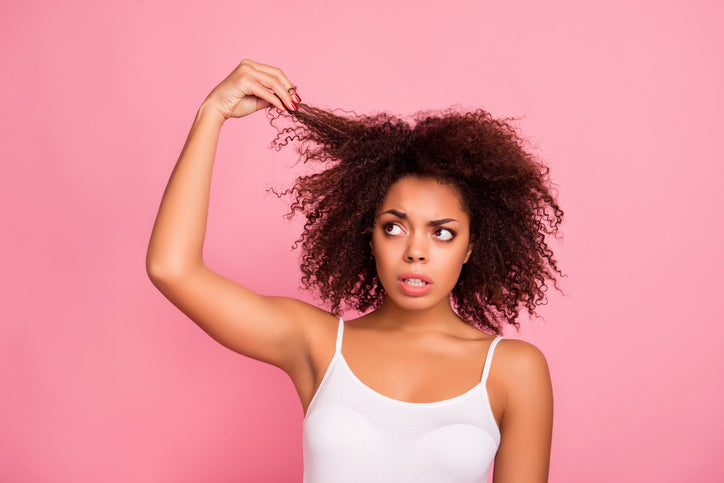 Have you noticed that your hair has become rough, straw-like, and dry no matter how many products you use? 
Although using protein in your regimen is important to keep your hair healthy and provide strength, applying too much can cause negative effects, especially if you deal with protein sensitivity. 
Those who have low porosity hair or fine strands are more prone to protein sensitivity than other hair types and textures. 
You may have heard that you should avoid using protein altogether and focus on moisture, however, protein is essential for everyone's hair. 
Even if you're protein sensitive, you still have to go through trial and error to find which products work best for you and how often you'll be able to use them in your regimen. Some proteins may work better for you than others. 
In this post, we're going to discuss more about the signs of protein sensitivity and how to find a routine that will help you keep a good moisture-protein balance. 
What is Protein Sensitivity? 
Some signs to look out for are excessively dry, brittle hair and shedding after using protein. It's important to pay attention to how your hair reacts and keep track of the products you're using if you want to find ways to avoid this. 
One thing that can help you on your journey is keeping a hair journal. Every wash day, write down every product you used and how your hair felt and acted throughout the week. If you notice that your hair feels different, go back and see what could've caused it.
When you keep track of this, it's easier to narrow down which products and/or proteins to steer clear of. 
If you notice any of the signs that we discussed above, go through your products and remove the ones that contain proteins. Focus on adding moisture for a few wash days and continue to observe the condition of your hair. 
Caring for Protein Sensitive Hair 
There are tips you can follow in your regimen to avoid protein sensitivity and keep your hair flourishing! Here are some to follow: 
Use Other Strengthening Treatments 
One popular remedy that many have incorporated into their regimen is Ayurvedic herbs. These can be used as an alternative to protein treatments and still provide strength to your hair without causing sensitivity. 
Not only does using their herbs promote healthy hair growth, but it also does the following: 
Soothes scalp conditions 

Enhances your hair texture 

Provides softness and manageability 
Our Fenugreek Detangling Pre-Poo is great to use! Fenugreek is a herb that can promote growth and hydrate your hair. This will easily melt your tangles and provide softness before starting your wash day. 
Use Protein Less Often
Usually, most people do protein treatments 1-2x per month depending on what their hair needs. If you're sensitive to protein, then using it this often may not be the best option. Spreading out how often you add protein to your hair is best. 
This is when trial and error comes into play. Try doing it once a month to see how your hair reacts. If you still notice that your hair is becoming dry and brittle, skip one month and add protein the next. 
Everyone's regimen won't look the same, you have to find what works best for you instead of following the "rules" others have set. 
Proteins can be in your shampoos, deep conditioners, moisturizers, and leave-in conditioners. Therefore, it's important to go through your products and avoid the ones with protein for a while. 
Here are some protein-free products to try from us: 
Use Moisturizing Treatments After Protein 
If you want to stay on the safe side whenever you use protein, you can follow up with a moisturizing treatment afterward. Whether it's a moisturizing deep conditioner or a hot oil treatment, using these can combat dry, stiff hair and add more nourishment. 
Our Rose Hydrating Conditioner is a creamy, hydrating conditioner that provides a ton of slip. The combination of Rose Water and Agave Nectar provides the moisture and nourishment your hair craves. 
Our Herbal Hair and Scalp Oil is great to use as a hot oil treatment. It's formulated with amazing ingredients such as Peppermint, Ginger, and Lavender which can soothe the scalp and promote hair growth.
There are no set rules to follow when it comes to caring for your natural hair. You have to find a routine and products that work best for you! 
Trial and error are key on this journey and although it can take time to find effective products, it's worth it in the end. 
Try following these tips and incorporate these protein-free products into your regimen to maintain a good moisture-protein balance and avoid protein sensitivity. 
Blog Post Contributor: @naturally_madisen 
Website: NaturallyMadisen.com